The Story Behind Duke's Crab Un-Crab Cakes
It's no secret that I love salmon. I mean, I really love it. It's one of my favorite things to eat in the world! Breakfast, lunch or dinner, I will always love Wild Alaskan Salmon. But if I had to pick a second favorite, I'd go with Dungeness crab. This is a love I share with my friend and executive chef, "Wild" Bill Ranniger.
A Boy and His Crab Pots
Bill's appreciation for Dungeness crab began as a young boy spending summer holidays at the family getaway in the San Juan Islands. His parents had towed an old houseboat to a plot of land on Henry Island and beached it, creating a unique summer 'cabin' to which the Ranniger family could escape.
Apparently, nobody wanted to fish in the early hours of the morning except for young Bill. So he would go out alone at six a.m in an old tin boat, hauling his fishing gear and crab traps with him. Rockfish and lingcod were plentiful and easy to catch in those days, and he would soon have a few good size fish. Gutting and filleting the fish immediately was important; not only did this future chef realize it preserved the delicious taste of fresh-caught fish, but he knew that fish guts make the best crab bait.
Bill says that Westcott Bay was the place to go for crab; it was actually nicknamed 'Dungeness Bay' because of its abundance of crab. He would head to Westcott Bay and tie the fish guts to the bottom of the crab traps. Finally, SPLASH!
"I would drop my pots and leave them to soak all night, then head for home, dreaming of fresh Dungeness the whole way," Bill remembers. "I could barely sleep at night after a crab pot drop."
The excitement of dragging those pots up to the surface and seeing them full of delicious Dungeness is a vivid memory for Bill; he called it the "Christmas morning pull." But his favorite memory is simply eating the crab cold dipped in pure, melted butter. No garlic, no lemon, no frills. Simple ingredients can have a big impact! This would prove to be a valuable lesson that "Wild" Bill would carry forward into his career as a chef.
Now, it seems simple: if you love crab, you should love crab cakes.
This is not always the case! For example, one day "Wild" Bill came to me about the crab cakes we had on our menu at Duke's. He said that they were good, but they weren't great! They didn't have that WOW factor that Bill loves to inject into every dish, especially one featuring Dungeness crab. This clearly needed a remedy, and so we embarked on a Quest to find the best crab cakes in the city!
A list was made of the best seafood restaurants in Seattle and surrounding areas, and so began our grand adventure. We went to eight different restaurants in one night, ordering only the crab cakes (and of course, wine). Every cake was judged on what worked and what didn't. After all, we were looking for the best.
That first night, we agreed that while all of the crab cakes we had tried were good, they all lacked that indefinable 'thing' that would make them great. Clearly, more research was needed!
The second night of the quest, we visited six more restaurants. And again, we agreed that while delicious, none of the crab cakes we had tried were outstanding. Sitting at that last restaurant with a glass of wine in hand, I sighed in disappointment and said, "You know what's great about crab cakes? Crab! You know what's terrible? Cake!"
And WHAM! Just like that, "Wild" Bill knew how to make Duke's crab cakes stand out.
Keep It Simple
Today, our incredibly popular Crab "Un" Cakes reflect the simple lesson that "Wild" Bill learned at a young age, eating crab with his family: don't over-complicate something that is already delicious! Using fresh Dungeness crabmeat, herbs right from the garden and simple, flavorful seasoning mixtures, we finally created a crab cake that is better than good: it's epic!
And that lesson carries through all of the dishes we serve at Duke's. There are always fresh, wholesome, natural ingredients, sustainably harvested that are used to create delicious meals that everyone can enjoy.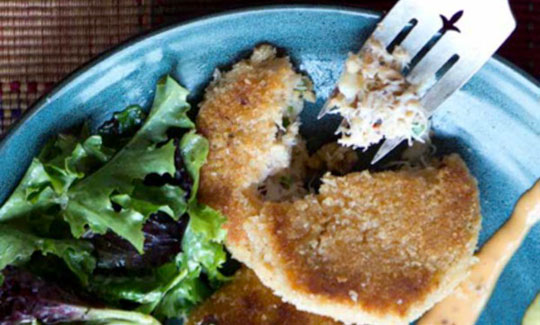 From my new cookbook "As Wild As It Gets," here is the recipe for our fabulous Crab "Un" Cakes. Lots of crab, cake not so much. All the crab and very little cake makes for one incredible appetizer. Click Here to receive other free recipes. And, join our VIP Club to get more great recipes and other special offers right to your inbox!
Ingredients
1¼ lbs fresh Dungeness Crabmeat
½ bunch green onions, green parts only, diced small
1 tsp Duke's Superb Herb Blend
½ cup Hold Me Tight Chipotle Aioli
1 cup + 2 Tbsp Zesty Lusty Lime Aioli
2 Tbsp fresh organic basil leaves, stems removed, diced small
2 Tbsp fresh organic parsley, stems removed, diced small
2 organic eggs
3 cups panko breadcrumbs (available at most grocery stores)
2 Tbsp Let's Be Clarified Butter
Directions
Squeeze excess liquid from Crab and place in a bowl. Add green onions, Duke's Superb Herb Blend, Hold Me Tight Chipotle Aioli, 1 cup of Zesty Lusty Lime Aioli, herbs, eggs, and mix well.
Ball into 3 oz portions (like making a snowball). Lightly press into panko breadcrumbs and flatten into ½ inch thick discs.
Refrigerate for at least 1 hour before cooking. (This helps them hold together.)
On a flat griddle or saute pan, heat Let's Be Clarified Butter to medium-high. Grill Dungeness Crab "Un"Cake until golden brown for approximately 3-4 minutes per side (be careul, they are delicate to work with). Serve with remaining Zesty Lusty Lime Aioli.