Welcome to Seattle's Iconic Restaurant, Duke's Seafood
Duke's Seafood is a full-service restaurant and bar with 7 locations around the Sound offering flavorful, tasty fare that features the very best food we source with painstaking vigilance. While we're known for our 100% sustainable seafood—fresh Dungeness crab, wild salmon, and prawns, to name a few—we also make a killer burger, fresh salads, and 4 award-winning chowders.
Come visit one of our many locations, all designed with your comfort in mind so you can relax and savor your time with good friends and family coupled with good food.
Farmed prawns at Duke's Seafood?
If you've spent any time at Duke's Seafood, you know that we care about quality, taste, and supporting sustainable farms and fisheries. Which fish is really sustainable?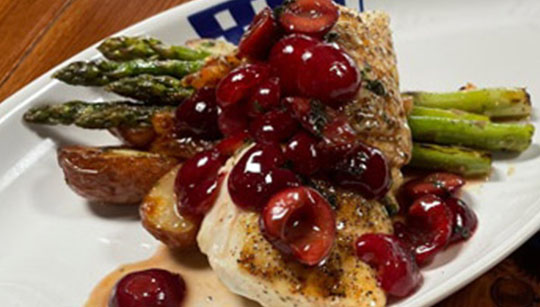 Cherry Halibut on Summer Specials Menu
Join us for our brand-new chef's specials to kick off a spectacular PNW summer, available from June 3 – mid-July! Our new Bibb Salad with Bing Cherries and Heavenly Halibut are loaded with fresh cherries.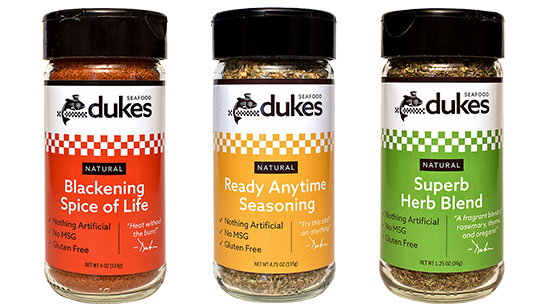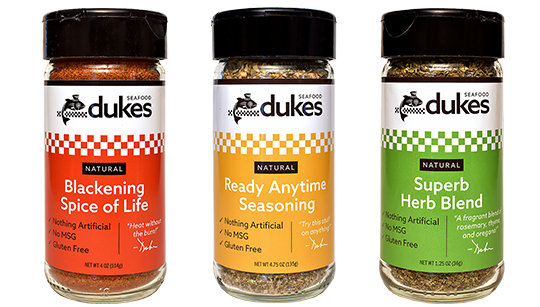 Duke's Seafood Spice Blends
NEW! Duke's Seafood exclusive spice blends are now available at all 8 Metropolitan Markets around Puget Sound. On special for $6.99, try all three to spice up your meals.
"I personally guarantee that you'll enjoy your meal, or you don't pay."
– Duke Moscrip