History
History of Puget Sound Legacy
Duke's Seafood & Chowder has come a long way since its humble and carefree beginnings in 1976 when Duke Moscrip broke away from his partnership in Ray's Boathouse to start the original Duke's Bar & Grill at 1st Ave. West and Thomas on Queen Anne, just two blocks from the Seattle Center.
The first Duke's opening was about as informal as the restaurant business could get. "We paid the employees cash every night," says Moscrip. "There were no paychecks. We didn't even have a cash register; we kept the money in cigar boxes. Really, cigar boxes."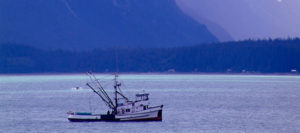 "I wanted to do something on my own," he said. "Something that was markedly different from the direction Ray's was headed.  I wanted something less formal, a hangout, but a hangout with distinctive food. We started with an eclectic menu featuring my favorite foods. Quality was always important, even at the beginning, and embarked on a trail to create tasty and healthy menu items each year."
There was always a feeling of a free-wheeling party every night, Moscrip reminisces. "It was packed and a local hang out for the surrounding businesses, especially the advertising agencies in lower Queen Anne."
Fueled by the success of Duke's Bar & Grill, Duke's Bellevue opened two years later, followed by Duke's 5th Avenue in 1985. It was in 1989 that the company made its biggest and best decision; they opened the first Duke's Chowder House on South Lake Union followed by Duke's Green Lake Chowder House in 1990, and finally Duke's Alki Chowder House in 2001. Even though other concepts were started, Duke shifted his focus on the winning formula found in the Chowder House concept and thus, other locations to make way for more Chowder Houses around the Puget Sound.
The Duke's Chowder Houses are casual and unpretentious where comfort, cold beer, tasty cocktails and scrumptious food all come together. "Don't let the casual nature of the atmosphere mask the fact that at Duke's our goal is preparing world-class equal to any fine dining restaurant.
Duke's Clam Chowder recipe soon became a local favorite, but it originated with Duke's grandfather in New England, evolving over time and with tastes winning countless awards including the Seattle Chowder Cook Off three years in a row. Seven other chowder flavors were spun from the original recipe with more continually introduced.
Menus expanded, more seafood introduced, broader selections took hold with customers which lead to a name change to Duke's Seafood & Chowder. "The new name better represents our menu today," says Moscrip. "Chowder remains a mainstay, but it's our adventurous and flavorful fish, chicken and beef dishes that make Duke's a local favorite."
In late 2018, Duke's Lake Union location will move a couple block up the lake to a larger location with spectacular lake views and extensive party facilities. 2019 is the opening of its news location on Shilshole Bay. "I started in the restaurant business on the Bay," says Moscrip. "When we open the new Duke's Seafood & Chowder on Shilshole, it will be like coming full circle."